Rushing Ryan Field: #17 Wisconsin at Northwestern
22 November 2009
No Comment
For the first time since October 2, 2004 I rushed the field at Ryan Field. That day, Northwestern defeated Ohio St. for the first time since 1971 and the first time at home since 1956.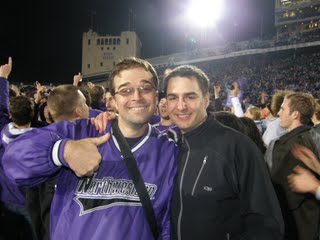 The Game
Yesterday Northwestern defeated Wisconsin 33-31 to give the Wildcats three consecutive victories in November. Northwestern took a 27-14 lead at halftime and never relinquished the lead. Once time expired Northwestern students stormed the field and we followed suit.
During the second quarter of the game, a football was thrown in my friends and my direction. I grabbed the ball and thinking it was similar to a beach ball threw it to my friend to avoid the security guard who was after the ball. My friend in turn threw the ball a couple sections over. Security then ordered both of us to the lower level of the stadium where we had to talk with University Police. Of course, the police said no harm, no foul and we walked back to our seats. We even took a picture with the security guard later in the game. However, for a moment we thought we would be ejected from the stadium.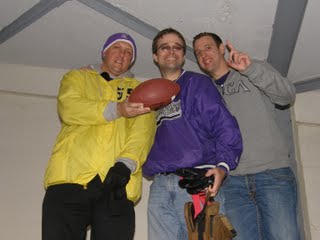 Tailgating and Obtaining Tickets
Once again I tailgated before the game with my friends from college. However, this time they did not have an extra ticket for me. But as I have stated in the past the best place to buy tickets for a college football game is in the parking lot while tailgating. While we tailgated, fans would walk by holding up their fingers – meaning they needed tickets. The game was not sold out so it was people looking for tickets that were cheaper than at the box office.
Around 1:45 pm I saw a guy holding up two tickets from a tailgate across the aisle – meaning he was trying to sell those tickets. I walked over to ask him how much he wanted. He said $20. Another guy at our tailgate needed a ticket so we accepted his offer. I decided to spend $20 since earlier in the day ticket brokers wanted either $35 or $40 each for tickets. Also, since a lot of people appeared to be looking for tickets I figured they also wanted to pay around $20 for tickets.