Sunday Night Football: Eagles at Bears
23 November 2009
No Comment
For the second week in a row I attended Sunday night football. This time the game was in Chicago as the Chicago Bears hosted the Philadelphia Eagles.
Parking
Once again the Ultimate Sports Wife and I were attending the game with Blackhawks Jim and, today, Blackhawks Jimmy Jr. Since Blackhawks Jim was driving from Wilmette, IL he picked us up. However, we did not have the Waldron Deck parking as we did two weeks ago so we parked in the Millennium Parking Lot. The best part of the Millennium Parking Lot is that they run a shuttle from the parking lot to Soldier Field. The drop-off spot is by the South lot which is perfect if you are meeting up for a tailgate. The worst part of the Millennium Parking Lot is that you have to wait in line to board the shuttle after the game. Since our seats are on the North side of the stadium we chose to walk to the parking lot after the game rather than take the shuttle.
Tailgating
As we did for the Arizona Cardinals game, we attended Rob Wipf's tailgate before the game. However, this time Rob made a major mistake – he only brought one case of beer for seven guys and the Ultimate Sports Wife. This proved not to be enough as we started to run out of beer before we started grilling brats. Even though Rob is a great tailgater he did admit his rookie mistake.
As with any beer crisis at a tailgate we tried to buy beer from another tailgate. I first headed over to my buddy's brother's tailgate, Dan Logan, who owns the Halas Hauler. However, he was nervous they would run out of beer as well so he handed me three beers and sent me on my way. At this point it appeared we would run out of beer well about an hour before the game would start. But as we were coming close to the beer shortage the tailgate next to us shut down and had plenty of beer left over. Rob saved the day as he handed the guy $20 and beer was handed to Rob.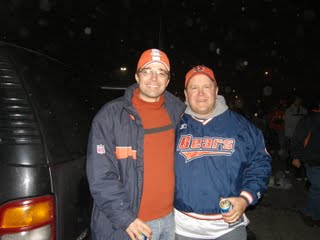 The Game
The Bears and Eagles had four lead changes in the second half as the Eagles defeated the Bears 24-20. With 5:31 left in the fourth quarter LeSean McCoy scored the game winning touchdown from 10 yards out.