A Day on Campus: Michigan at Northwestern
3 February 2010
No Comment
The main reason I bought Northwestern men's basketball season tickets this year is that the Ultimate Sports Wife is a Ph.D. student at Northwestern University. We met in undergrad at Northwestern so I do have "another" reason to attend. However, with Nicole spending much of her time on campus, I realized that buying season tickets 1) gives her an incentive to go to campus to work, 2) allows me to attend the basketball games and 3) allows us to spend more time together since we are both on campus – #1 and #3 giving me good husband points.
Today was one of those days. Nicole needed to drive to campus by 2 pm for "office hours" – where she instructs her students how to perform better in class. Since Northwestern was playing at 6 pm versus Michigan, I decided to ride to campus with her and spend a few hours in the sociology department surfing the internet and working.
Parking
As usual I parked in the neighborhood near Welsh-Ryan Arena since you can park for free on the street.
The Game
The game was close through the first half, but Northwestern started to pull away with 10 minutes left in the game. That's when Drew Crawford stepped up his game and scored all 11 of his second half points (he had 17 points total) to defeat Michigan 67-52. The win gave Northwestern their first sweep of Michigan since 1967.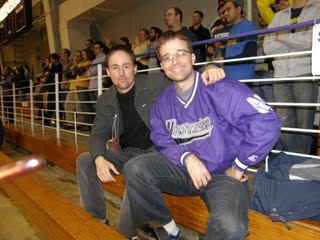 During the game I ran into my fraternity pledge father and deadspin.com columnist, Benoit Denizet-Lewis. He's writing about Northwestern's quest for its first NCAA Tournament bid. At this point in the season, Northwestern has played their most difficult games in Big Ten play. Northwestern must now defeat the teams they are "supposed" to in order to be eligible for the bid.