Santo 50: Pirates at Cubs
The Cubs were back in town to host the Pittsburgh Pirates after a week on the road. The Pirates, losers of 17 straight road games, were hoping to snap their streak. And, the Cubs were the perfect opponent for them since they are 7-2 against the Cubs this season before last night's game.
The game appeared to be heading to extra innings until the top of the 9th inning when Jose Tabata doubled to deep right center scoring Ryan Doumit to give the pirates a 2-1 lead.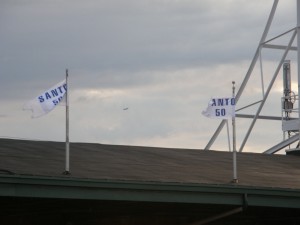 Ron Santo Ceremony
Before the game the Cubs honored Ron Santo two days after his 50th anniversary of his MLB debut. The Cubs are flying "Santo 50" flags above Wrigley Field for the entire home stand.