Cold Summer Weather at Wrigley Field: Pirates at Cubs
The Cubs somehow managed a victory versus the Pittsburgh Pirates this season. And, somehow Alfonso Soriano was the reason why. Soriano belted two home runs leading the Cubs to a 3-1 victory over the Pirates. The Cubs improved to 3-8 on the season versus the lowly Pirates as Mike Greenberg and Mike Golic of ESPN Radio's Mike and Mike in the Morning sang during the seventh inning stretch.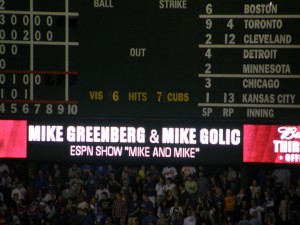 Cold Weather at Wrigley Field
It can sometimes be tricky to predict what clothes to wear at Wrigley Field. First and foremost the direction of the wind will change everything. If the wind is blowing out it will be 10 to 20 degrees warmer in the shady seats. However, last night this was not the case as the wind was blowing in. Luckily, the Ultimate Sports Wife and I realized this and dressed appropriately. Although we did see many unsuspecting fans wearing shorts. Remember, to always bring a jacket and check which way the flags are blowing when walking into Wrigley Field.