Ultimate Sports Baby Attends Eighth Cubs Game
It was a typical Saturday afternoon – attend the Cubs game with the family. The Ultimate Sports Wife and I walked over to Wrigley Field with the Ultimate Sports Baby as Dylan attended his eighth Cubs game today at the young age of eight weeks old (averaging one game per week of life is not bad).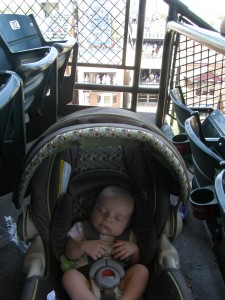 Pittsburgh Pirates at Chicago Cubs
The Cubs managed to win a game as Randy Wells took a no-hitter into the seventh inning. The Cubs matched a franchise record leaving 17 runners on base.